Profile
54 Peaks in 138 Days
Josh Jespersen on the Colorado 14ers
Scared shitless, Josh Jespersen started to question the decisions leading up to the moment he crept out onto this narrow shelf at the summit of El Diente, one of the Colorado 14ers' most rugged peaks. With just enough snow to hold an edge, he inched carefully along the clifftop. Any wrong move would be met with certain injury, more likely worse. "It was utterly petrifying," says Josh. "But once I was on it, I was committed." He chopped down a bulge of snow blocking his already precarious path and eventually traversed to the safety of more playful terrain. But there was little time to celebrate. Josh still had another 14er to tour that day, and he was on a deadline.
Josh is a 30-year-old splitboarder living at 10,152 feet in Leadville, CO. He's a former NAVY SEAL; a combat veteran who spends his summers defending ships from pirates off the coast of Somalia and winters sliding sideways through the Centennial State. Earlier this year he became the third snowboarder to tour all 54 of the Colorado 14ers, and the first person ever to tour them all in a single snow season. Skier Chris Davenport held the previous record after completing the peaks in 361 days. Josh did it in 138.
While that's near-insanity to most, for Josh it was the natural progression of things. Soon after he finished the 14ers and returned home from a trip to the Philippines, Josh got on the horn to tell us a bit about some of his recent endeavors.
The Snowboarder's Journal: You just got back from the Philippines?
Josh: Yeah. I went there with a few other veterans to recreate the Bataan Death March for Mission Memorial Day, a non-profit that a couple of friends and I started a few years ago. It aims to bring Memorial Day back to its roots, rather than using it for dumbass mattress sales and other silly things that piggyback it. In 2015 we decided to climb Denali with flags bearing the names of fallen soldiers, but were turned back at 18,000 feet. In 2016 we returned and summited the day after Memorial Day. We brought five flags with the names of nearly 500 fallen soldiers on them. It's our way to honor these people and show their loved ones that they are never forgotten.
Coming into this last winter, I was thinking about how I could bring more attention to the cause. I felt like I needed to do something notable, something big, and settled on this 14er project.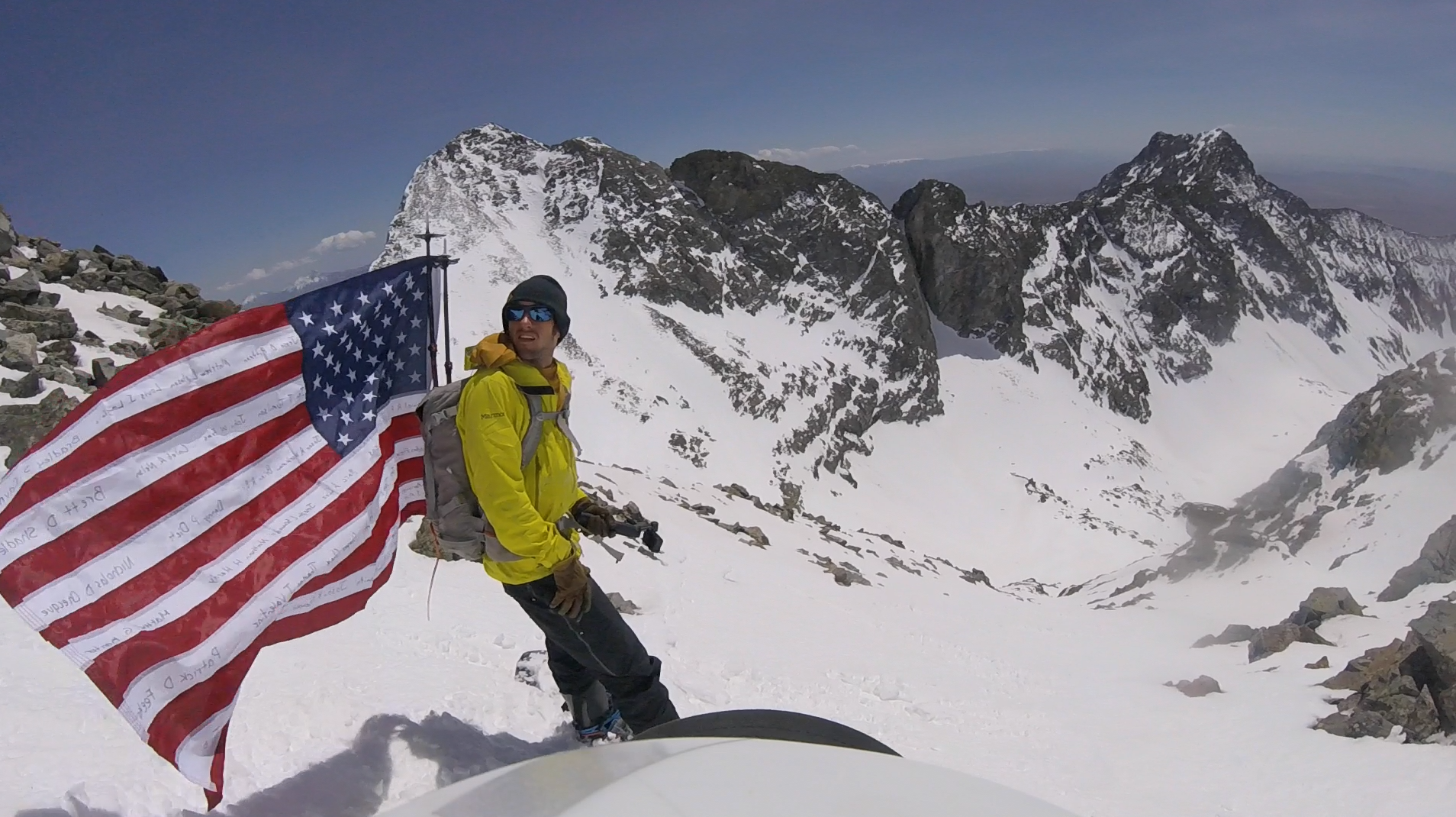 TSNJ: Did you grow up snowboarding in the backcountry?
Josh: Not really, I'm from the east coast. I grew up in Pennsylvania and started skiing in the Poconos when I was 3-years-old. I switched over to snowboarding when I was 15 and never looked back. In 2005 I joined the military right out of high school and would snowboard every chance I had, but there weren't many.
TSNJ: Did your time in the military help prepare you for the Colorado 14er project?
Josh: Definitely. In our platoon my job was Lead Climber, so my specialty on the team was mountaineering. The SEALS do a bunch of winter warfare type training, and we were always out in the mountains. That's where I got most of my climbing skills.
In Afghanistan, our FOB [Forward Operating Base] was stationed in the Zabul province, surrounded by gorgeous mountains–huge treeless peaks covered in amazing snow. There were spine runs all around me, and I was just salivating over them. That's when I started seriously thinking about where to go when I got back to the States. Those mountains in Afghanistan really rallied me to move to Colorado.
TSNJ: Where you proceeded to tour each of the states 14er's in record time.
Josh: I did all my research, and if there's someone out there who has done it faster, then he hasn't told a soul. Chris Davenport held the previous record with 361 days. There are only about 15 people who have skied all of Colorado 14ers, and two other snowboarders who have done it over the course of a couple of years: Jarrett Luttrell and Mark Burella. Laura Hadar is on track to finish it by next year, she knocked about 20 of the peaks this season. I kept running into her and her boyfriend out in the backcountry last winter, it was awesome to see them getting after it too.
TSNJ: Tell us a bit about the tours.
Josh: Well, by the time I finished the last peak I had covered over 600 miles and 250,000 vertical feet on foot. My average day consisted of about 12 to 15 miles, with the longest day coming in at 28 miles. Some of the 14ers are close enough that you can tackle two in one day, so there was one stretch where I bagged seven peaks in seven days. I had two days where I managed to cover 10,000 vertical feet, and three days each with about 7,000 to 8,000 vertical feet.
Depending on the distance and steepness I'd be skinning for four, five, or even up to eight hours. Also, I made a rule for myself that I had to ride each peak from the summit, not just close to it. It had to be the actual summit. Because of this, I got turned around from 15 or so peaks that I had to come back and repeat.  One was Mt. Harvard, an 18-mile roundtrip. You can't see your line until you're right there. So, I hiked 9 miles up and stopped 200 feet short of the summit because the line wasn't rideable, and had to come back for it another day.
TSNJ: Double rough.
Josh: Yeah, haha. But I never got too upset about having to turn around, because the ride down is fun no matter what. On Princeton, I broke trail for five miles and the weather forced me to turn around, but then I looked down at a 3,000-foot powder run through the trees. How can I complain about that? I'd just come back the next day and do it again.
TSNJ: That's an awesomely optimistic way of looking at it. Was that one of the more challenging parts of the project?
Josh: Finding partners was the hardest part. I ended up doing 27 of the 54 peaks solo. There were eight or so when I had someone come with me, but the other person didn't summit for one reason or another. So, a total of 35 that I summited and skied from the top solo, with 27 of them being alone the whole time. I love riding them all, because I love the whole experience, but other people don't always think it's worth it to skin around for 8 hours to ride one sketchy line. There were a few I'd rather not have done solo, but had to or I wouldn't have finished the project in time.
TSNJ: What kind of gear were you bringing on these trips?
Josh: I would bring a Nalgene full of Tang to every mountain because, dude, it's the best. It's got plenty of sugar, and when you're doing a lot of cardio you need plenty of sugar. Most days I'd only take one liter of water, but on the longer days, and when spring came and it warmed up, I'd bring 1.5 or 2 liters. For food, I relied on candy bars a lot. Mounds are the best for the mountain because they don't freeze and they don't melt. Also, lots of cheese and meat.
As for my gear, I'd travel as light as possible. I'd only take crampons for peaks I knew I'd have to use them on, which is about half of the peaks. I only rode with my ice axe five times or so. Some of the peaks are steep and icy, but most of Colorado's 14ers have a lot of exposed rocks and it's better to use your hands to billie-goat around. Halfway through the season Jeremy Jones hooked me up with a new splitboard after seeing a picture I'd posted on Instagram of my beat-up one, which was truly incredible. I wish I had splitboard crampons, because that would have made skinning a lot easier, but I never ended up buying a pair. There were like 20 times when I wished I did, though.
TSNJ: Why make it easier, right?
Josh: Haha, right.
TSNJ: How did it feel when you finished that 54th 14er?
Josh: I finished the last peak and got back to the trailhead with less than 12 hours to get to Denver and catch my flight to the Philippines. I knew that there might not be enough snow when I got back, so I was just totally elated when it all came together. And after I completed the whole thing, Jeremy Jones put me on the Protect Our Winters Riders Alliance. I'm pumped about that, and happy to be another voice speaking out to save our planet and our snow.
TSNJ: Yeah, we need more people fighting for it. Now that you've got the 14ers under your belt, what's the plan for this season?
Josh: I'm going back to finish the Orient Express on Denali. The possibilities out there in Alaska are truly endless.
---
Editor's note: There is debate over the number of peaks that qualify as a 14er in the state of Colorado. The Colorado Geological Survey states that there are 58 peaks that exceed 14,000 feet in elevation. Others argue that for a peak to qualify, the summit must rise to at least 300 feet above the saddle of the nearest confirmed 14er. Either way, Josh's accomplishment is a burly one.