Event
Gerry Lopez Big Wave Challenge 2019
White Waves and The Spirit of Real
"I have never coasted down a hill of frozen rain" – Duke Kahanamoku
These words, spoken by the father of modern surfing, are bewildering in their prescience considering this man was born in Hawaii in 1890. It's an indication of how, even generations before the inception of snowboarding, surfers instinctively understood the link between their ocean-borne sliding and its ability to translate to other parts of our natural world.
But Duke would be hard-pressed to imagine the extent of which this idea would blossom in the mind of his fellow native Hawaiian, Gerry Lopez. Gerry's story is well-known: A surfer who showed the world how to handle one of the most dangerous breaks on the planet, the Banzai Pipeline. Gerry changed direction in 1992 to move to Bend, OR with his family to enjoy clean mountain air and chase frozen waves, wind, and powder—an analog to his past and a vision into the future. After 18 years of high desert living and a lifetime of surf contests under his belt, Gerry created an event at Mt. Bachelor with a worldwide draw, blending surfing and snowboarding into a mind-bending fusion of sideways slashes and spraying snow. He calls his creation the Gerry Lopez Big Wave Challenge, and last weekend marked the gathering's 9th amazing year.
Riders and surfers from across the globe made their way to Bend throughout the week prior and awoke Thursday morning to 8-plus inches of thick spring pow at Mt. Bachelor. Stoke yipped its way across the parking lot as riders, many of whom had not seen each other since last April, shared hugs and lift rides in search of deep turns. But the spring temps had their way with the snow and most folks rolled back to town around noon to prepare for a new event at the Big Wave Challenge, a surf movie night at the Tower Theater in downtown Bend. We screened 1987's North Shore and followed it up with fundraiser to benefit the one and only Pat "Parkraker" Malendowski.
Friday dawned partly sunny with 5 inches of fast recycled wind buff and we got our first view of the Bachelor Parks crew's frozen creation. It quickly had many claiming it to be the most fun build in the event's nine years. Banked lips transitioned into boosty QP's and tabletops, all leading down to the "Haleakala" volcano and what many consider the main feature of this year's course: a 30-foot frozen wave with a front and back bowl section and a few feet of oververt, aptly named Sunset Beach. Following registration, riders sessioned the course, dissecting the curves and waves for every bit of speed and flow. Toeside slash off G-Land and boost Pipeline, or go heelside off Trestles and head into Uluwatu? Take another lap and unlock the potential.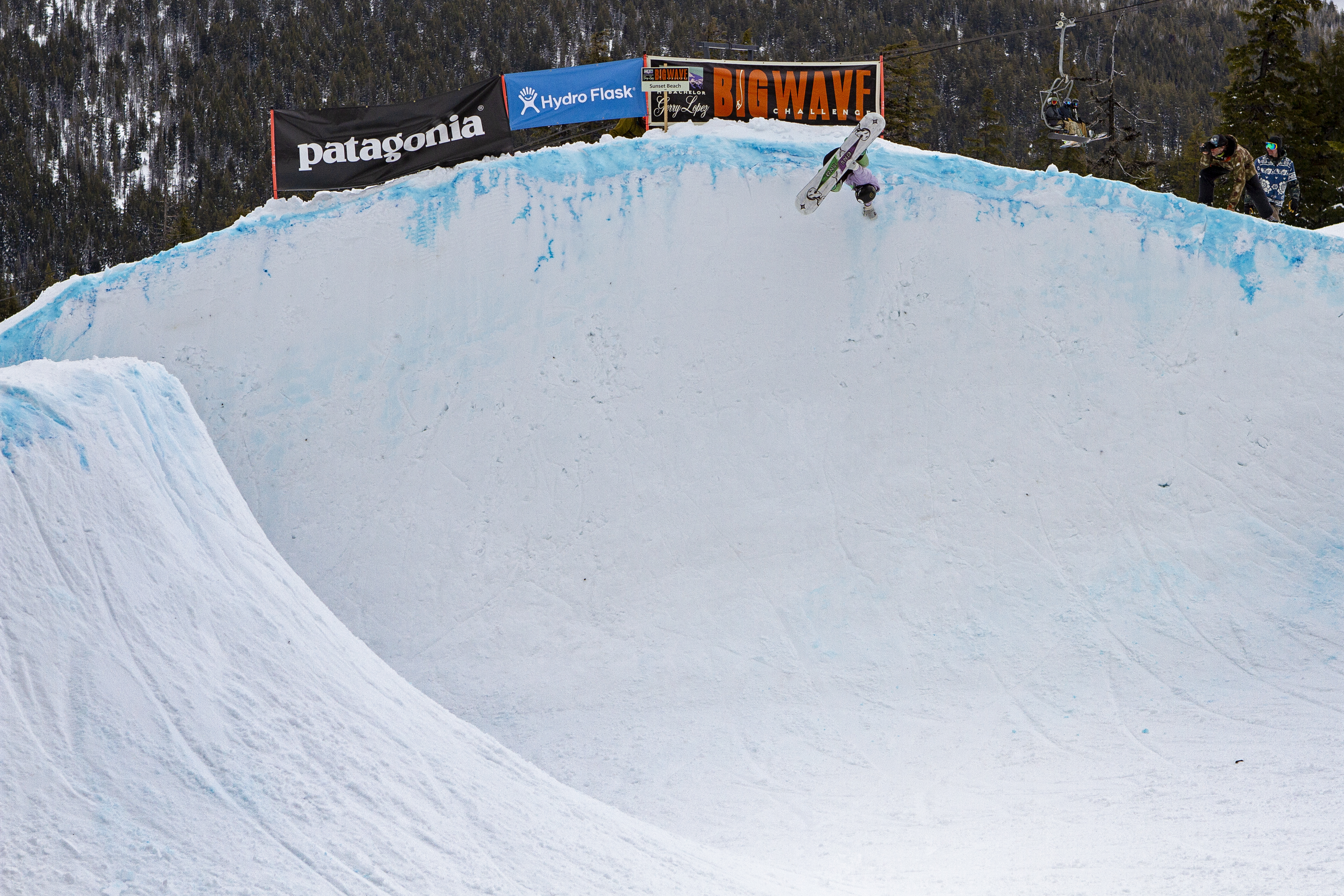 Like a surf contest, organizers waited until a few days before the weekend to determine ideal conditions and decided Saturday was the day it would all go down. Starting with the Keiki (under 16) division and followed by the Wahine (Women's Open), Makule (over 40), Pro Surfers, and finally the Kane (Men's Open), riders had 2 runs to show the judges what they had to offer. Throughout it all, crews mingled around the course. Last year's champion Randal Seaton and the rest of the Snoplanks crew swapped stories and laughs with Elevated Surfcraft founder Aaron Lebowitz and his posse of snowsurfers. Erika Vikander and Randa Shahin busted out inflatable palm trees and flamingos and hawaiian shirts galore. Locals Ashley Thornton and Sam White compared run notes. Hey, is that surfer Rob Machado talking to Gentemstick rider Hayato "Bubbles" Murayama? Alex Yoder spinning laps with Forrest Shearer? Ian Walsh laughing it up with Rip Zinger? The lineup is stacked, and super-friendly.
Almost on cue, the weather rolled in as the Kane division ended and we made our way to the main floor of the Pine Marten Lodge to await awards. Laughter. Hugs. Sunburned faces. Drinks. Jared Elston and Janessa Bork were crowned champions of the 2019 Gerry Lopez Big Wave Challenge, and each will be spending their own week at the Volcom Pipe House on O'ahu, directly across from the Bonzai Pipeline. It's well-deserved–their rides were creative, confident, and powerful.
As the awards ceremony ended and we began to say goodbye to people we love and don't see enough of, it felt like the walls of the lodge were pulsating with the collective stoke from the crowd. It's hard to put into words… or maybe it isn't.  Every year, Gerry reminds us of one of Duke Kahanamoku's most meaningful quotes:
"In Hawaii we greet friends, loved ones and strangers with Aloha, which means with love. Aloha is the key word to the universal spirit of real hospitality, which makes Hawaii renowned as theworld's center of understanding and fellowship.
Try meeting or leaving people with Aloha. You'll be surprised by their reaction.I believe it and it is my creed.
Aloha to you."
Hearing Gerry say it… I don't know. It sounds like gospel, because it is. The world needs more aloha and if it takes a weekend of snowsurfing frozen waves to keep it going, well then sign me up again for next year. 
---
---
Mahalo Gerry, Nina Zess & the Mt. Bachelor crew, Andy Goggins & the 10 Barrel crew, Patagonia, the judges, builders, riders, and everyone else who made the 2018 Big Wave Challenge one to remember. We'll see you in the lineup again next April. 
---
---
RESULTS:
Kane (Men's Open):
Jared Elston
Kazushige Fujita
Justin Schoonover
Wahine (Women's Open):
Janessa Bork
Erika Vikander
Camila Brown
Makule (40+)
Allister Shultz
Bubbles Hayato Maruyama
Jason Shurtz
Keiki (16 & Under)
Rei Igarashi
Cannon Cummins
Elijah Pyle
Surfers
Ian Walsh
Kohl Christianson
Rob Machado
Soul Surfers
Alex Yoder
Arata Suzumura
Leah Dawson
Best Method – Chris Luzier
Best Trick – Max Warbington
Best Carve (Top Turn/Off Top) – Jay Hergert
Best Carve (Bottom Turn) – Ken Miyashita
Best Line – Kit Hendrickson
Best 360 Degree Carve – Brian Zager
Best Slash – Ravi Drugan
Best Spin – Joe Madden
Best/Biggest Air – Forrest Devore
Best Lay Back – Jared Baker
Best New Comer – Ryan Birch
First Chest Hair – August Wilcox
Most Aloha Spirit – Frankie Bilello
Most Fun – Alexandria Pugliese
Take Care of the Earth – Bill Keale
Most Speed – Alex Ing
Best Star – Marlo MacMillan
Best Cruising – Taylor Bacci & Ayla Cummins
Best Cut Back – Guy Young