Video Exclusive
Picture Organic Clothing Presents "Shelter"
Holistic Progression in the European Alps
The European Alps are changing. As ancient ice pulls back, among the debris sits a solemn sense of responsibility. In Switzerland, glaciers have lost ten percent of their mass in the past five years, and over 500 have disappeared altogether since the start of the 20th century. That's an intimidating darkness. But with Shelter, the Almo Film crew and Picture Organic Clothing tell a story of the magic that remains, and urges action to protect the enduring splendor of their home range.
Shelter features Mat Schaer, Thomas Delfino, Levi Luggen, and skier Léo Taillefer. From Geneva, Grenoble, Brig, and Val D'Isère respectively, the group brings perspective from across their home range. Jeremy Jones joins for a stint, offering insight and listening intently as a new generation wrestles with the issues that have shaped his career for the past decade-plus. Directors Morgan Le Faucher and Julien Roserens bring their storytelling expertise to a prosodic narrative, told in the voice of a veteran Swiss guide, Serge Lambert. Throughout the project, they engage the Alps with minimal emissions, using public transportation and splitboards as their only means of access.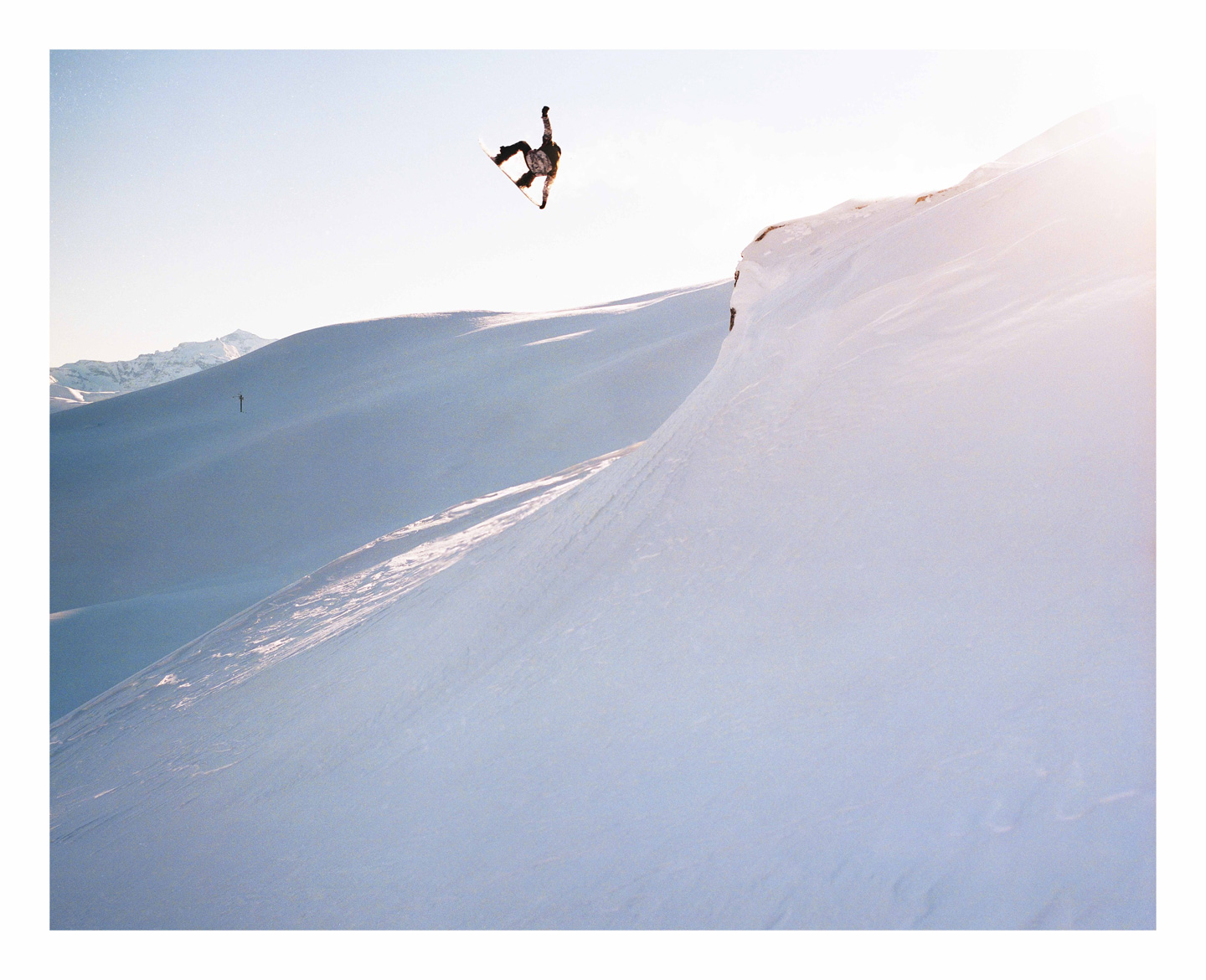 The film offers a local's view of the changing climate Switzerland and France, one that extends a thousand years into the past. As the riders spend time in alpine huts, they're inspired by the incredible passion displayed in establishing the network of shelters. Immersed in the mountains, they find the clarity they need to earnestly consider what can be done to minimize humanity's impact on Europe's high places. They ask difficult questions, but the overall tone carries hope–Shelter treats the climate crisis as a challenge to be addressed through measured action. 
"I've become more and more aware of how climate change is affecting our playground," says Mat Schaer, who developed the concept for Shelter. Once a traveling professional snowboarder, over the past eight years he transitioned from an international storm chasing lifestyle to the one endorsed in the film. He continues, "as pro riders our carbon footprint can be significant. I started looking for ways to reconcile those two factors. Living in Switzerland, where we have one of the best train networks in the world, it wasn't complicated to start using public transportation to go snowboarding. I started trying to focus on my home mountains. Eventually I filmed an Absinthe part all at home, but didn't put much into communicating that. I was doing it for myself, to see whether I could. Shelter is the next step–now the priority is staying low-impact rather than getting the most action, and we're trying to set an example of doing what we love while keeping our carbon footprint as low as possible."
Bringing the project to Almo Film, Mat tapped into the creative forces behind Zabardast and Storm Troopers. Co-directors Julien Roserens and Morgan Le Faucher worked with Mat to find a cinematic tone to match his thinking. "We didn't want doom and gloom," says Le Faucher of the approach. "We hear facts about glacier retreat and warming temperatures all the time in the news. Instead of echoing that, we wanted to encourage people, and we still want to entertain. We wanted to showcase what we love, so that audiences know what we're asking them to protect. It's still a snowboard movie–that's part of what we were looking to do, prove that a less impactful approach can still let you get world-class riding."  
Shelter punctuates this point, with some of the most progressive freestyle riding ever filmed on splitboards. Thomas pushes Pakistan-honed big mountain prowess, Levi charges with laid-back flow, and Mat's backside five over a crevasse gap is next level. It followed a first hit back one that didn't make the cut, and set a new standard for skin-accessed backcountry freestyle.
"At first, I was concerned with breaking gear," says Mat of sending on his splitboard. "We couldn't afford to bring a second board, or second set of bindings on these trips, because we were so loaded. And if something breaks, especially a binding, you've basically lost the rest of the trip and put yourself in a really bad situation, because it's going to take forever to get out of there. So I started slowly, and as I gained trust and confidence in the gear I ramped up over the season. The climax was the jump over the crevasse. By then I didn't even realize I was riding a splitboard."
Mat, who has a Master's Degree in environmental engineering, calculated the reduction in his carbon footprint made by using transit and his splitboard exclusively. He estimates his first years of filming as a professional snowboarder created average travel emissions of 7 tons of carbon per season. Filming for Shelter, he figures he produced 70 kilograms–a decrease by a factor of 100. "When I compared my emissions during the filming of Shelter to my day-to-day carbon use, the difference was negligible," adds Mat. "Almost nothing."
Of course, Mat's approach is made feasible by the extensive transit network available in Switzerland. Even in neighboring France, it is more difficult to rely entirely on public transportation. Based in Grenoble, Thomas Delfino says that filming Shelter showed him how the rail network in his home country could improve. Thomas just attended the Protect Our Winters France Summit, where athletes and organizers discussed improved public transportation as a central goal moving forward. "The government will improve transit if we use it," says Thomas. "We need to show them that we're ready to change our habits." 
With France's municipal elections approaching in March, Thomas urges voters to let candidates know that public transit is a priority. "It has to be affordable," he says, "and it has to be convenient. But the only way to get to that point is to make sure our representatives know that we care about it."
Depending on where you live, you may be able to follow Shelter's example already. North American readers may feel isolated from the message of using public transportation to snowboard– there's no doubt that passenger rail travel is less developed in Canada and the US than in Europe. But initiatives like free transit days and reduced fares are spreading as resort towns look to fight congestion and emissions, and ride-sharing apps have made it easier than ever to cut back on empty seats. If you're inspired to petition your local government to improve public transportation in your area, an excellent place to start is by reading the comprehensive plan for your community. These documents outline priorities and targets for cities and towns, and are typically publicly available on municipal websites. Find out what your representatives are planning with regards to transit, and write to them with questions or suggestions. Let them know what it would take to get you using public transportation.
"I'm inspired by the new generation taking action," says Thomas. "I think it's gonna work. Let's kick all those people only attracted by power and money out of our governments. Let's vote for the right people, and I'm sure things will change quicker, maybe in time to respect the Paris agreement. Something is happening right now, you can feel it. Even five years ago, climate change wasn't as important in the media. People are talking about it, and looking for solutions–I think we're going in the right direction."
Shelter was made possible with support from Picture Organic Clothing and Protect Our Winters. For more information, visit www.picture-organic-clothing.com, www.almofilm.com, and www.protectourwinters.org.