REVIEW
Patagonia SnowDrifter 30L Backpack
As a snowboard photographer, I have unique needs in my day-pack. Yeah, I've got the specialized camera bag for days when bringing the whole kit is essential, but for standard powder days—whether at the resort, touring or at mechanized operations—I like to have a lighter camera with me as well. For this purpose, I have a little Fuji SLR. It's small enough to fit in most day-packs, with good enough quality for print if necessary. But enough about the camera. This review is about a pack—the Patagonia SnowDrifter 30L pack, to be specific. And to simplify things, it's about one feature in particular: back panel access.
Surprisingly few backcountry day-packs incorporate back-panel access. Usually, there's your top-loading main compartment as a base, with a separate slot for your backcountry tools on the outside, and a nice little fleece-lined goggles/glasses/whatever you want dealio to round it out. All are accessed from the top, meaning you're more inclined to stash frequently accessed items—like a camera—near the top. This is not ideal. It's better to keep your heavier items down at the bottom of the pack in order to keep the weight on your hips, not your shoulders. Keep your center of gravity centered, you know?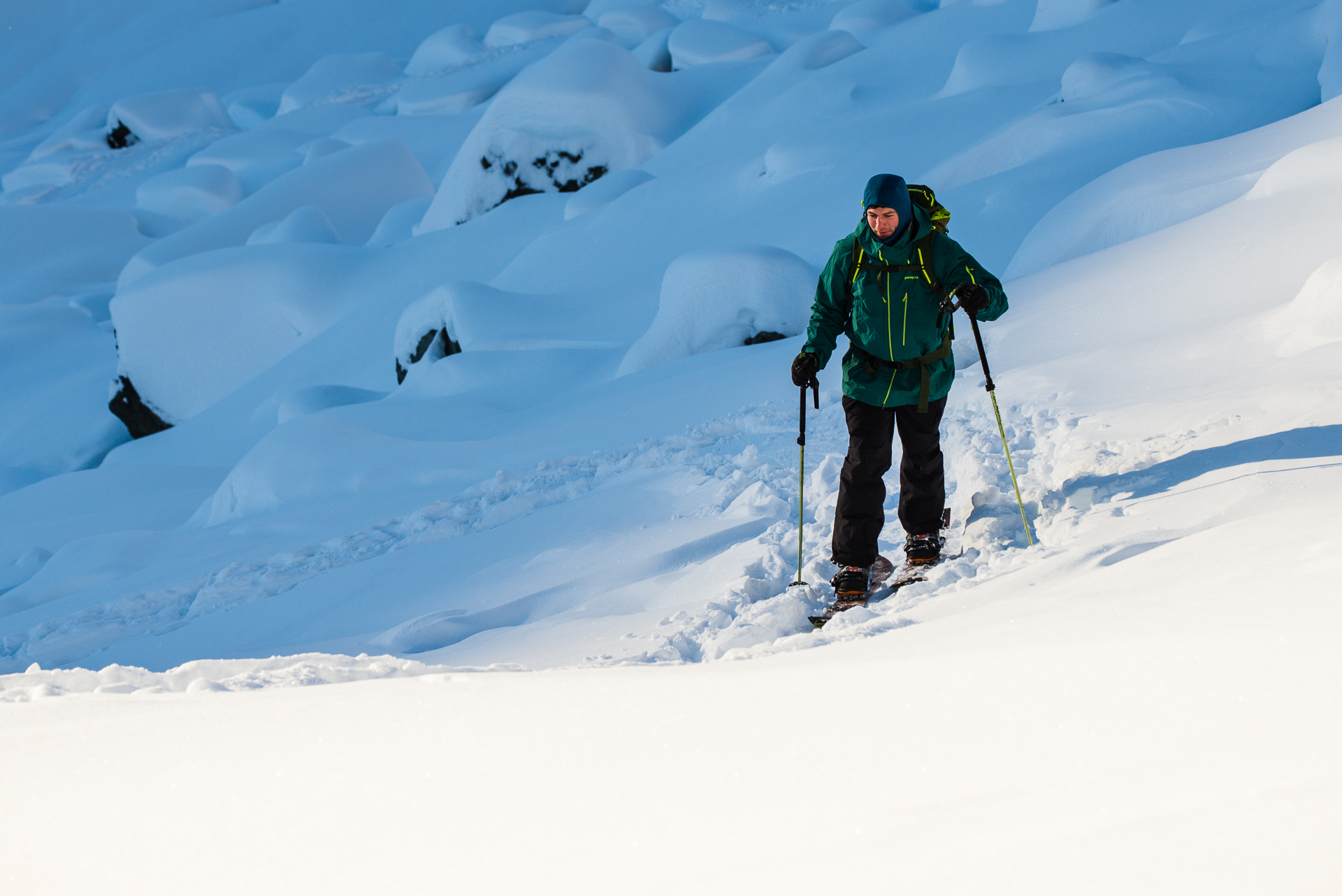 This is where back-panel access is key, and where the SnowDrifter delivers: with all the aforementioned access points plus a full-zip back-panel, I've been able to fit a small camera block at the bottom, therefore meeting my needs with a streamlined bag that fits easily on chairlifts (and in helicopters, when I'm lucky.)
Even when I don't have my camera onboard this back-panel access has been nice for other heavy items like water, skins, etc. It lets you keep lighter essentials like a down layer up top while still being able to easily grab a snack, a sip, or a shot without having to paw through the pack from the top and throw off the weight distribution. There's a little padding to it to keep those sharp edged-objects from bouncing around on the small of your back all day, while protecting delicate items, too.
Although the snowdrifter is available in both 20L and 30L capacities, I prefer the 30L for its flexibility. The back panel and extra fabric add a minor weight penalty, but compression straps take care of any extra bulk when traveling light or riding the resort. As my go-to bag for non-shooting days, I've put this thing through the wringer for two seasons at this point and it's still going strong. (I did break a clip on the chest strap at one point due to car door negligence, but Patagonia's repair department took care of that quickly.)
From Baker lift laps to Japanese backcountry days to Alaskan heli missions, the SnowDrifter 30L has been a reliable, versatile pack that's never too big, never too small. It's got nice added features like a laptop sleeve/water reservoir compartment, ice tool loop and an internal zip pocket for valuables, configurable ski/board carry for split days and solid days, and comes in two sizes with adjustable shoulder and hip straps to get that fit just right. Plus, they make it in black. And you know photographers are only allowed to wear black.
The Patagonia SnowDrifter is available at patagonia.com and wherever Patagonia products are sold for $169.00.
About the reviewer:
Height: 5'8"
Weight: 160 pounds
Pack size: s/m
Riding style: fall line/freeride, from lifts to splitboards to heli days
Riding experience: 25 years, 60+ days per year